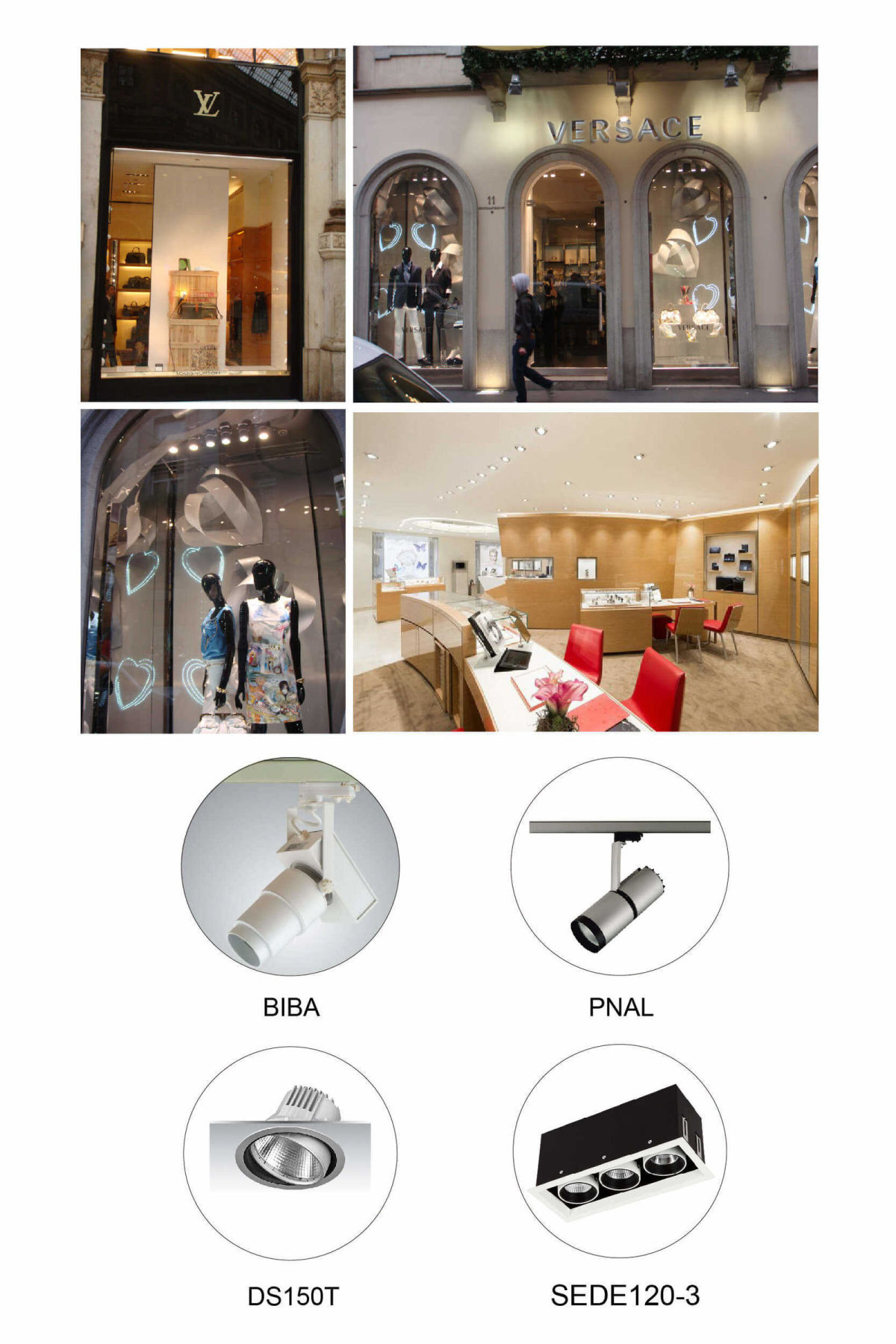 LOUIS VUITTON Garment leather
Project description
LV opened a new flagship store in Milan Montenapoleone street in September 22, 2011, the LV market development focus on this area, used to display the latest series of hot selling products here, the desire of the image of LV will become a new fashion label Montenapoleone street.
Design concept
1. Window style, used the traditional assembly to track spotlight. The lighting design on the side is Track create new styles Jiacheng light installed in the window of two, rather than the immediate window, installation design like this, can the characteristics of products against the window.
2. Store with the ceiling grille lamp hotel used to decorate, embedded lamp features. Let more people like in a cloakroom, rather than the traditional stores, to give more people the feeling of home.
VERSACE Dress
Project description
From Italy well-known luxury brand Versace created a fashion empire, represents a family of brands, Versace fashion products permeate every area of life. Its distinctive design style, unique beauty, strong pioneer art make it popular around the world. Its design style is bright, is the unique esthetic sense extremely strong vanguard art symbol. One of the most attractive is that the show is full of Renaissance features gorgeous women's styles with rich imagination, they are sexy and beautiful, feminine, colorful, both gejushi super smooth realistic luxuriant, and can fully consider wearing comfort and properly display size. Versace also operates the perfume, glasses, tie, leather goods, bags, porcelain, glassware, scarves, feather products, furniture products etc.
Design concept
Located in Montenapoleone Street Monty VERSACE store has always been a young love gathering shop. From outside the shop to look into one of the more eye-catching arched windows, which display a different style of the mainstream high-end goods. Through the window above the rail lamp lit. Each commodity is reflected in the light and shadow, the style is more elegant.
OMEGA Watch
Project description
From the Swiss famous brand watch manufacturer OMEGA, also choose to open a branch in Milan Montenapoleone street, a new boutique in three layers, a total area of 200 square.
Design concept
The four windows are beautifully stores timepiece carefully decoration, elegant and modern. Attracting Monte Napoleon street and near the Via Verri neighborhood of shoppers and pedestrians, which are attributed to the use of reasonable lighting stores. The window lights as an example, Scarlett using embedded spotlights for lighting, the window appears particularly dazzling commodity.